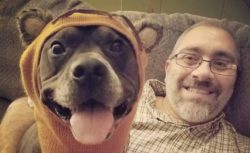 Our family had the absolute pleasure of working with Vicki. She worked with our furbabies on basic obedience and she was amazing! She was patient, kind, and the most incredibly supportive person during our training. She truly went above and beyond for our family and we are so grateful to have her in our lives! I highly recommend her and her training services.
– The Jowsey Family, Angola, NY
---
​Vicki is the best positive reinforcement dog trainer! I met her on my search for help after we adopted Ruby. Rex wasn't 100% welcoming ☹ Vicki was awesome!!! She has become a very good friend and has sooooo much knowledge! She will retrain your 'human' thinking and it will be so eye opening! I have an entirely new perspective from a dog's point of view!! She is also certified in the Dogs and Storks Program… she is always willing to share her knowledge and answer questions! There are no stupid questions, and she is so easy to talk to.
– Tamara C., Cambria, NY
---
Vicki helped us not only by working with our Yorkie/Terrier/Pug Kelsey (she is a rescue we have had since Nov.) she showed us how to reinforce what she was teaching and gave us skills to continue her progress. Kelsey & our 9 yr old yellow lab, loved her visits & of course, her bag of treats! She mainly worked w/ us and Kelsey, but toward the end of each session Haley got to join in on the fun. We owe so much to Vicki for her kindness & love of dogs. Teaching by positive reinforcement and patience w/ us. I highly recommend her to everyone.
– Kim N., Cambria, NY
---
If your dog(s) are your children, then this is exactly where you need to be for all of your training/behavioral needs. Vicki has worked w/our (extremely high energy) Mini Boston Terrier rescue, Batman, and while working with him, my beautiful little Puggie, Mimi also picked up some great disciplinary tools & tricks too!! Vicki is able to get into the psychological areas of your dog(s) mind, and also see what unhelpful habits you might be enabling, or that you might be encouraging negatively with your dog(s) without realization.  We will continue working, & referring people to her in the future. We cannot thank Vicki enough for all of her help. I know Batman & Mimi do too!!!
– Adam K., Tonawanda, NY
---
Attentive, professional, knowledgeable, kind, great trainer who does everything from dog training to birthday parties. Recommend to all.
– Dawn V., Clarence, NY